programs
Work & Travel USA Summer 2023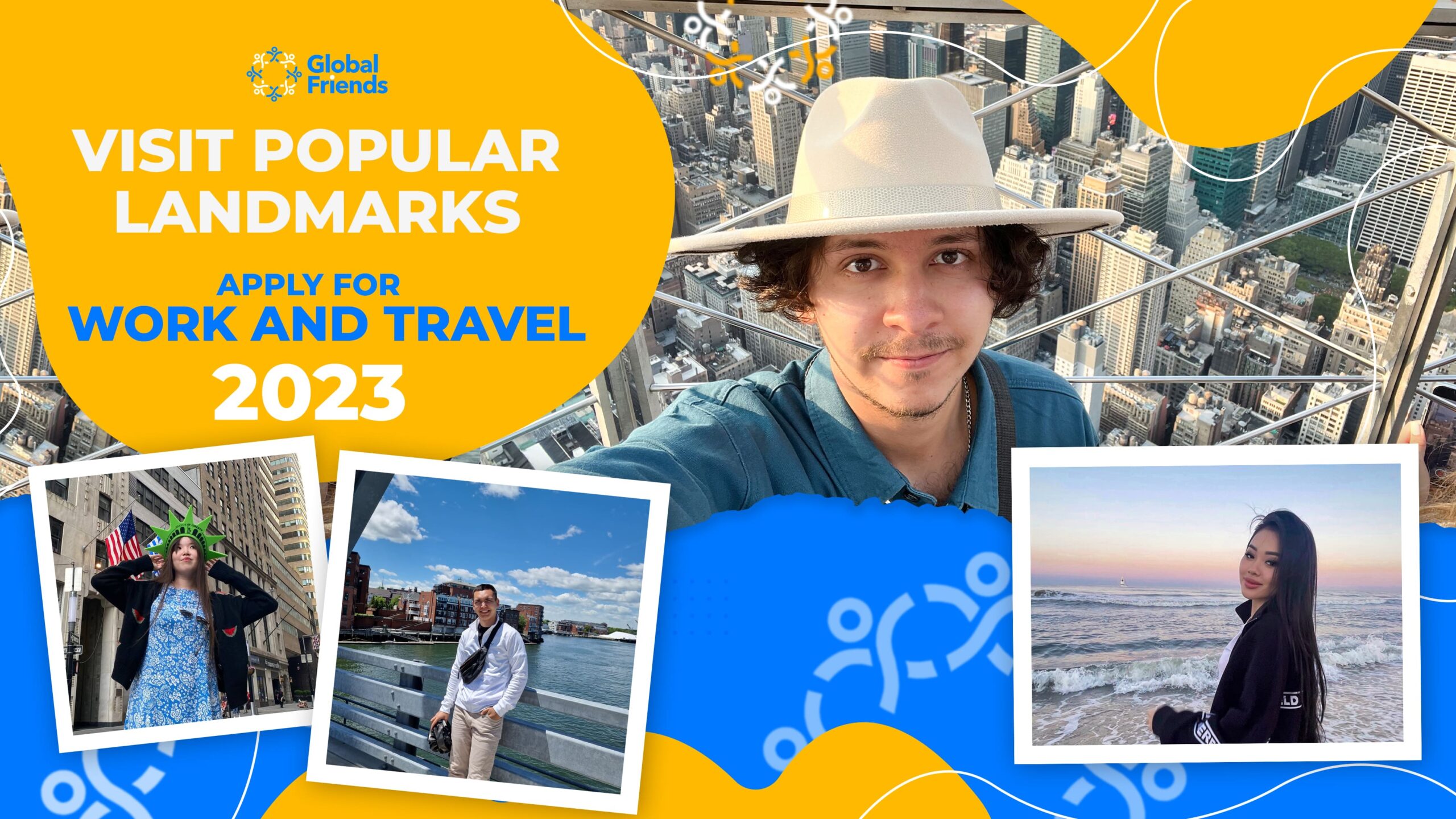 About Program
We are happy to inform you about the opening of the registration for Summer Work and Travel 2023 with Global Friends
READY TO APPLY? this link will guide you to start the profess!
 About Global Friends 
Learn more at our Youtube channel, and share our Marketing materials.
 Advantages for our students:
Premium Medical Insurance
U.S. VISA interview preparation
Access to the largest Work&Travel alumni community in Uzbekistan
Orientation by J1 Visa Sponsor – Check out this video (https://www.youtube.com/watch?v=GgeqGmHKjjE.)  (2022)
Cool T-shirt, tote bag, water bottle, US embassy documents folder, and bike helmet
Free American SIM-card.
Program Eligibility Requirements: Watch this video and this one from our CEO Darya Modestova to learn more about the Program and Eligibility requirements.
WORK AND TRAVEL SUMMER 2023 PROGRAM COST
The EARLY registration price is $3215 for Full-placement / or $2915 for Self-arranged-job placement. 
The SEVIS fee is $35.
The total program price is $3250 for full / $2950 for Self.
Detailed program PRICE-LIST can be found here
How to apply?
Apply at workandtravel.uz or click here
Wait for an email (you will get an email response within 24 hours)
Feel free to call/text via telegram @globalfriendsuz
Our managers at Tashkent Office.
Dildora Nurullaeva- dildora@j1exchange.com –  telegram username: @doraglobalfriends / +998 90 0445537
Bekzod Ibrokhimov- bekzod@j1exchange.com – telegram username: @globalfriends_b / +998 90 0625537
Laziz Mekhmonkhonov- laziz@j1exchange.com – telegram username: @globalfriendsuz/ +998 90 0545537
 Monday-Friday (10 am – 5 pm) – ONLY BY APPOINTMENTS! 
Program Price for Work and Travel Summer 2021
Job Arranged Premium program price - $3215. SEVIS fee is $35
Lifeguard Program Price - $2415. SEVIS fee is $35
Apply now
Application form