programs
Work & Travel USA Summer 2022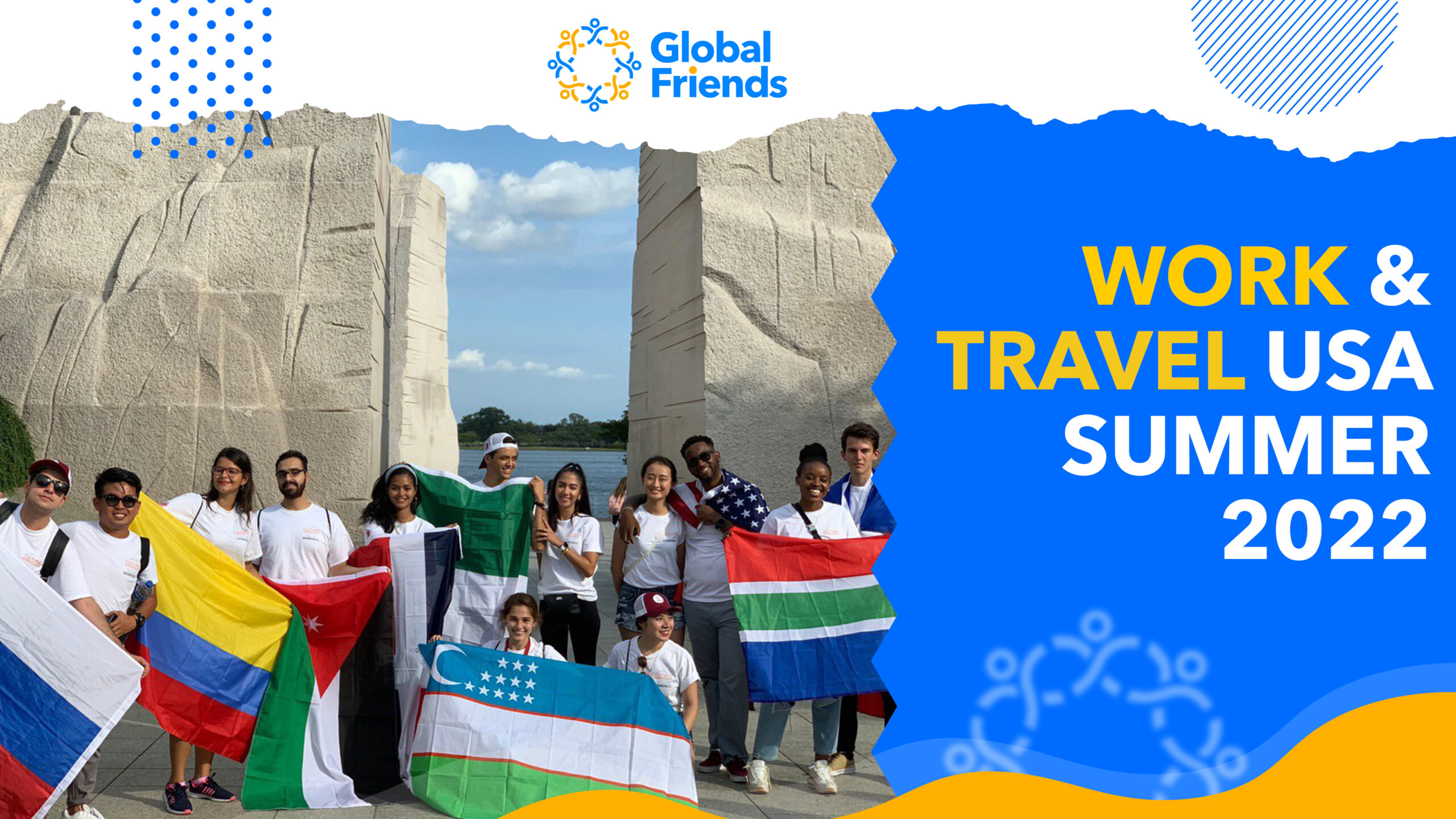 About Program
REGISTRATION for Welcome to Work and Travel SEASON 2022 is now OPEN! 
Global Friends has been specializing in the Work and Travel program since 2008, making us one of the oldest J1 Work and Travel facilitators in Central Asia.
We are locally and internationally licensed, listed by the US embassy on the website. As your program facilitator, Global Friends is responsible for assisting students in applying for J-1 Visa and providing pre-arrival orientation. We handle applicant screening, selection, and paperwork submissions along with assistance with Visa Interview procedure.
For the 2022 Global Friends will be hand-selecting a total of 150 top-qualified participants to represent not only our organization but also your University and Uzbekistan as the country on the J-1 Work and Travel program in the U.S. Please watch this video to learn more about the Program and Eligibility requirements.
Lean about PRICE INFORMATION and review refund policies 
Being the If you are accepted into the program, Global Friends will provide:
Global Friends participants are being offered:
12 years of experience running the program in Uzbekistan
Direct Partner Relationship with J1 Visa Sponsors.
Access to Largest Global Friends Alumni in Uzbekistan: real participants, real support, tips for the program.
Sponsor orientation in Uzbekistan (Check out this video  from previous years on our YouTube channel)
DS-2019 form issued by J-1 Visa Sponsor
Online access to Sponsor Database·
Job offer: Largest selection of jobs and locations through one of the 7 visa sponsors! 
24/7 support in Uzbekistan and USA upon arrival
Premium Insurance!
Branded Marketing materials and free Bike Helmet
ISIC Card and free USA Sim-card for every registered participant
Assistance with preparing J-1 Visa documents required by Visa Sponsors
Professional Preparation for Visa interview with Visa Sponsor and Previous year participants
Do you think you have what it takes to represent Global Friends in the Work and Travel Summer 2022 program?
If the answer is YES, please follow these instructions:
STEP1: Complete your Application Form. 
STEP 2: If we choose your application, we will contact you and schedule a skype interview.
STEP 3. If your application will be approved after the interview, you will be provided with the acceptance letter and the agreement.
For more information, testimonials, photos, stories, and more please follow us Social media accounts and connect with us on different platforms: LinkedIn, Youtube, Facebook, Instagram. You may also connect with our former participants to learn more about the program and our services.
Our Telegram group for all your questions and troubleshooting: https://t.me/globalfrienduz
Program Price for Work and Travel Summer 2021
Job Arranged Premium program price - $3215. SEVIS fee is $35
Lifeguard Program Price - $2415. SEVIS fee is $35
Apply now