Новость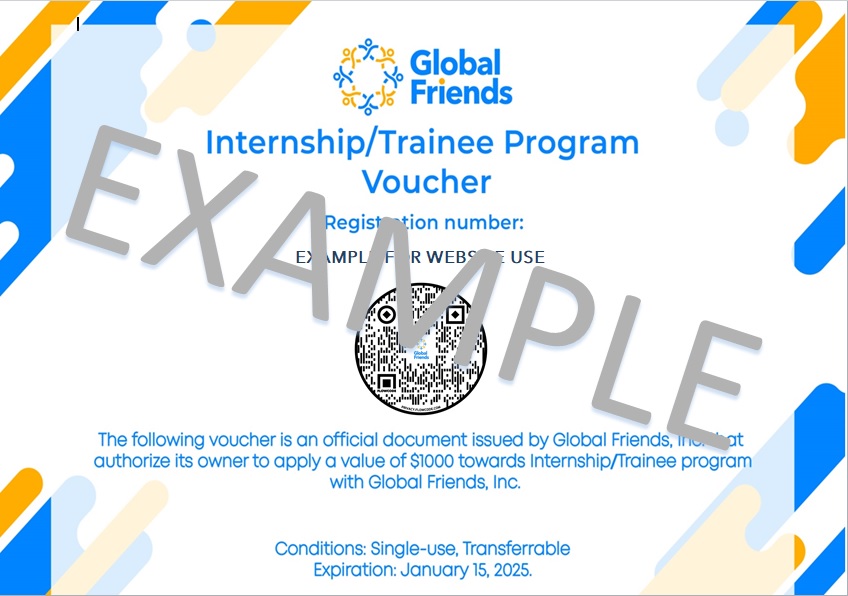 Internship CERTIFICATES now available
27.08.20
The following page created to verify the Authenticity of Internship/Trainee Certificates. The following certificates are registered and can be applied towards Internship program or if otherwise agreed upon with Global Friends staff. Each certificate has the nominated value of $1000 that can be applied toward the Internship program services offered by Global Friends, inc.
The expiration of the voucher — January 2025
If you want to transfer the certificate on other name, please email to [email protected] and request the update in the register. 
GLF-V-002
GLF-V-003
GLF-V-004
GLF-V-005
GLF-V-006
GLF-V-007
GLF-V-008
GLF-V-009
GLF-V-010
GLF-V-011
GLF-V-012
GLF-V-013
GLF-V-014 — Used and applied
GLF-V-015
GLF-V-016
GLF-V-017
GLF-V-018
GLF-V-019
GLF-V-020
GLF-V-021
GLF-V-022 — Used and applied
GLF-V-023
GLF-V-024
GLF-V-025
GLF-V-026
GLF-V-027 — Used and applied
GLF-V-028
GLF-V-029
GLF-V-030
GLF-V-031
GLF-V-032
GLF-V-033
GLF-V-034
GLF-V-035
GLF-V-036
GLF-V-037
GLF-V-038
GLF-V-039
GLF-V-040
GLF-V-041
GLF-V-042
GLF-V-043
GLF-V-044
GLF-V-045
GLF-V-046
GLF-V-047
GLF-V-048 — Used and applied
GLF-V-049
GLF-V-050
GLF-V-051
GLF-V-052
GLF-V-053
GLF-V-054
GLF-V-055
GLF-V-056
GLF-V-057
GLF-V-058
GLF-V-059
GLF-V-060
GLF-V-061
GLF-V-062
GLF-V-063
GLF-V-064
GLF-V-065
GLF-V-066
GLF-V-067
GLF-V-068
GLF-V-069
GLF-V-070
GLF-V-071
GLF-V-072
GLF-V-073
GLF-V-074
GLF-V-075
GLF-V-076
GLF-V-077 — Used and applied
GLF-V-078
GLF-V-079 — Used and applied
GLF-V-080
GLF-V-081
GLF-V-082
GLF-V-083
GLF-V-084
GLF-V-085
GLF-V-086
GLF-V-087
GLF-V-088
GLF-V-089
GLF-V-090
GLF-V-091
GLF-V-092
GLF-V-093
GLF-V-094
GLF-V-095
GLF-V-096
GLF-V-097 — Used and applied
GLF-V-098
GLF-V-099
GLF-V-100
GLF-V-101
GLF-V-102
GLF-V-103
GLF-V-104
GLF-V-105
GLF-V-106
GLF-V-107
GLF-V-108
GLF-V-109
GLF-V-110
GLF-V-111
GLF-V-112
GLF-V-114
GLF-V-115
GLF-V-116 — Used and applied
GLF-V-117 — Used and applied
GLF-V-118 — Used and applied