programs
USA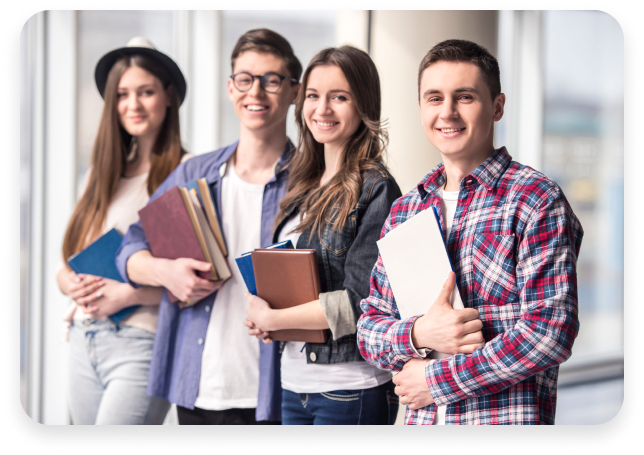 Education in the USA.
Education in the United States is one of the most popular in the world. Studying in this country attracts foreign students with its education quality, high ratings, and the prospect of an excellent career.
There are more than 4,000 higher educational institutions in the United States, so the choice of programs for students is always large, and the university rankings speak for themselves. Indeed, in the top hundred universities in the world, most of them are occupied by American universities.
What to choose?
Private boarding schools, language camps, colleges, or universities offering higher education in the United States – we can offer you all of this to choose from. Read more about studying in America and decide what is right for you!
Interesting:
– More than 50% of Nobel laureates are graduates of American universities;
– Every year more than 500,000 international students graduate from an American university;
– More than 50 US universities are included in the TOP 100 universities in the world (according to the QS World University Ranking 2020)
Benefits of training:
– a large selection of specialties for students from all over the world;
– the latest technologies that provide excellent equipment for universities;
– availability of practice and internship during training;
– excellent career prospects;
– the opportunity to work for 1 year after graduation from university.
Popular areas in demand in the labor market:
– engineering;
– IT;
– biomedicine;
– medicine;
– economics and finance;
– multimedia, design and other types of art.
US education system
There is no single educational system in the US, the general plan determines the state, but for the most part, a detailed plan is developed by each educational institution independently.
School education in the USA is divided into 3 stages:
– Primary – from grades 1 to 5 (a plan is prescribed for students and at this stage it is not yet possible to choose subjects);
– Secondary (middle school) – from 6 to 8 grades (students study basic subjects, and also each has several subjects to choose from);
– High School – from (9 to 12) or Senior School (11 – 12). At this stage, students have the opportunity to choose most of the subjects on their own, thereby gaining knowledge in a narrow specialty. However, mandatory subjects remain. Gifted students can take the Advanced Placement program, which provides an opportunity to gain deeper knowledge by going through a program of increased complexity.
Higher education in the USA consists of 3 levels:
– Bachelor's Degree lasts 3 – 4 years. The program consists of credits that the student must complete. Typically, a full-time student must take at least 30 credits. Thus, in order to complete a bachelor's degree, the student has to pass and receive between 120 and 150 credits.
Admission requirements for a bachelor's degree in the USA
Usually, the list of documents is standard, but each university may request something additional, depending on the specialty and the rating of the university. To apply for a bachelor's degree you will need:
– A certificate of completion of secondary education. (It will need to be notarized and translated into English);
– Certificate of language proficiency – TOEFL (from 60-78 Ibt points, depending on the requirements of the university), or IELTS (from 6.0);
– SAT certificate (the score of passing is determined by the university, the higher the better. The maximum score for this test is 1600);
– Submitted application form;
– Essay;
– Resume or CV;
– In case you apply for a discount or grant, you may need additional documents proving your uniqueness. For example, certificates of completing additional courses, diplomas for participating in Olympiads, proof of volunteer activity, etc.
Note: There are some Universities, which can accept students without SAT. If you are planning to enter a university with a good rating, it is better to prepare for this exam; otherwise, you will have to take an additional pathway year (which is not available in all universities).
Community College in the USA
In order to reduce the cost of a bachelor's program, many American students go to a different scheme. They enter Community College for the Associate Degree program, study for 2 years, receive a professional diploma, and then choose to go to work with a specialist diploma or continue their studies in a bachelor's program.
2 years of Associate Degree are counted as 2 years of a bachelor's degree and thus a student who graduated from Community College can apply directly to the 3rd year of bachelor's degree. What is the advantage of Community College? The fact is that the cost of training is much cheaper. An annual course will cost between 7,000 – 12,000 USD, while bachelor's programs start at $ 14,000 per year.
– Master's degree in the USA lasts for 1 – 2 years, depending on the direction, and consists of 33 – 52 credits.
Requirements for applicants for a master's degree:
– Certificate of completion of secondary and higher education. (They will also need to be notarized and translated into English);
– Language proficiency certificate – TOEFL (from 79 Ibt points, depending on the requirements of the university), or IELTS (from 6.5);
– GRE / GMAT certificate (the score is determined by the university, the higher the better. The maximum score on this test is 1600). Some specialties do not require this exam;
– Submitted application form;
– Essay;
– Resume or CV;
– For MBA programs, you must also have work experience of 2 years or more.
– Doctorate in the USA (Doctor Degree) lasts from 2 to 4 years. To apply for it, you need almost the same set of documents as for a magistracy, but the level of English must be stronger, and the student should have scientific publications in international journals in their field.
Apply now