programs
Canada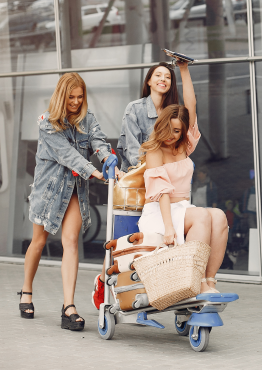 Education in Canada.
For those who strive to gain advanced knowledge and live in one of the most peaceful and friendly countries in the world, we suggest considering Canada!
Main advantages:
As shown by numerous studies conducted by the UN – Canada has been a leader in living standards around the world for several years.
After class (after hours), students are eligible to work, with wages ranging from eight (lowest rate) to fifteen Canadian dollars per hour.
Most universities and colleges in Canada have first-class technical equipment, from gym equipment to comfortable dormitories on large campuses.
One of the main advantages of getting higher education in Canada is real practice while studying. The internship is paid, and the distinguished students have every chance of getting a job upon completion of their studies.
Another important plus is the cost of training. It is not difficult to calculate that Canadian education is almost twice as cheap as in UK universities, not to mention the rest of Europe's universities, where the cost is sixty to seventy percent higher than the Canadian one!
It is worth recalling that in Canada the state language is not only English but also French. A bilingual country with the ability to study and practice with native speakers.
The dream of immigration to Canada is quite feasible because according to the law you have the right to work in the country for three more years after graduating from a higher education institution with further obtaining a residence permit.
Higher education in Canada.
Higher education in Canada can be divided into three stages:
Undergraduate – there are two options here. A student either enters a bachelor's degree and immediately fully studies for 4 years at a university/college, or takes the Diploma Program. The Diploma Program lasts for 2-3 years, after which a student receives a specialist degree and decides either to continue further and transfer to the 3-4 years of bachelor's degree or stay with a degree and become a specialist which also allows finding a job.
Postgraduate – Master's degree, as a rule, lasts 1 – 2 years.
Doctorate (Ph.D.) – the award of a doctoral degree, the learning process takes from 2 to 4 years.
Interestingly, higher education in Canada can be obtained not only at the university but also at the college.
The difference between colleges and Universities in Canada
The main difference between Canadian colleges and ours is that in addition to secondary specialized education, a four-year study is possible and, accordingly, a bachelor's degree. The average tuition fee is fifteen thousand Canadian dollars per year.
The choice of specialties is huge, as is the choice of subjects that students wish to study. Some of the most common areas are business administration and engineering. Nano and biotechnologies keep up with them in popularity. Rocket and aircraft engineering, nuclear physics, and pharmaceuticals were also included in the top specialties.
In addition to training, universities conduct constant research, which is not inferior in scale to many research institutes.
Statistics show that many universities in Canada are in the top 100 best universities in the world. According to the data for the 2018-2019 academic year, the University of Toronto ranks 28th in the world, McGill University – 33-rd, University of British Columbia – 47th, University of Alberta – 109th.
Interesting facts about studying in Canada:
Canada's largest library for management studies research is located at the University of Montreal, a branch of the Graduate School of Business. There are about 350,000 documents on the shelves of this library. About half a million readers visit this library every year.
There is only one university in Canada that bears the name of a politician, namely the Prime Minister of Canada, who was the first French Canadian in this post – Sir Ulfried Laurier.
Not without legends, according to one of them, there is a huge web of tunnels under the University of Albert. Legend says that students and teachers used to move along them in the winter, so as not to freeze on the street. Alas, this is just a legend. However, the tunnels do exist, and their length is about fourteen kilometers! True, their purpose is completely different and prosaic – maintenance.
Ever wondered where famous movies and TV shows were filmed such as X-Men: Inception, Supernatural, Smallville, 50 Shades of Gray, Fantastic Four, and many, many others? The campus of the University of British Columbia has the answers to your question because it was here that some of the most breathtaking scenes in many films were filmed.
Apply now