New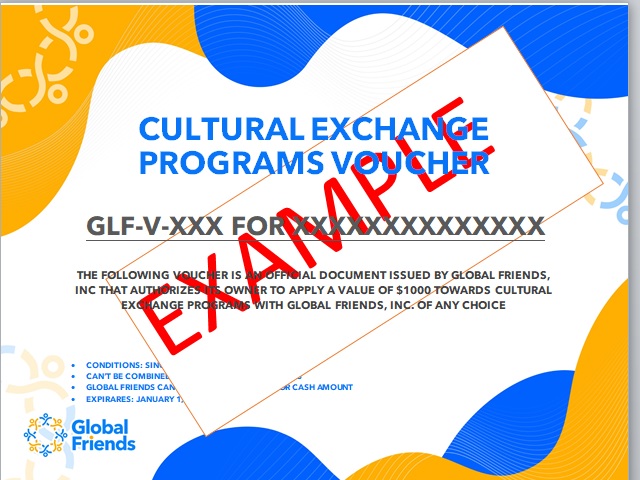 Work and Travel $ Camp Vouchers – Summer 2023
21.09.23
The following page was created to provide information about Global Friend's Vouchers and verify the Authenticity of voucher holders
History: Every year we celebrate Work and Travel participants who COMPLETED the program in GOOD STANDING and returned to Uzbekistan. They are true Uzbekistan ambassadors and Department of State J1 program Alumni. 
To recognize their achievement, Our agency, along with our sponsor colleagues issue vouchers that are distributed among students during the ANNUAL WELCOME HOME party. 
Global Friend's interpretation of a Voucher is based on the following definition: As defined by OXFORD Languages (world's leading dictionary publisher): "A voucher is a small printed piece of paper that entitles the holder to a discount, or that may be exchanged for goods or services."
EXPLANATION:
The following Vouchers listed below are registered and can be applied as a discount towards any BridgeUSA programs offered by Global Friends, including Work and Travel USA, Academic Year Program, Internship/Trainee program, Camp USA
The value of the voucher is $ 300 and can ONLY be deducted as a discount towards the program cost. Each Voucher has a unique code that must not be repeated. Once a Voucher is used, it will be marked as used in the list below.
The voucher is transferrable. You can give it as a gift to your friend, or acquaintance at no cost or for a nominal price. To Transfer the voucher you only need to approach us once via email ([email protected]) and let us know the new name of the holder of the voucher. Always contact us before you buy the voucher.
Global Friends verifies the Eligibility of every applicant applying to the program and makes sure an applicant meets or exceeds our Best Practices designed to select the best program ambassadors.
The voucher gives no special privileges during the Program selection process. If you are not selected for the program, you will not be able to use the voucher.
Please note, that Global Friends does not SELL, BUY or Benefit from vouchers in any way. We can NOT refund the cash value of the vouchers whatsoever so if you use the voucher, your refund policy would NOT be the same as the participant who paid the full cash value of the price of the program.
The only way how the voucher can be used by Global Friends is by applying it as a discount towards program fees. In case of Visa Denial or Program Cancellation, your refund amount is calculated based on the FEE DISCLOSURE FORM YOU SIGNED (which is only based on the cash cost of the program (and never CASH + Voucher).
Different promotions cannot be combined together. Voucher value cannot be applied together with any other discounts, certificates, promotions, other vouchers, etc. 
Any attempt to abuse the voucher will result in immediate voucher cancellation and associate participant disqualifications. Global Friends is required to report any misdemeanors to J1 Visa Sponsors.
Please request a copy of the FEE DISCLOSURE FORM to make sure you understand applicable refund policies and make an informed decision about selling or buying the voucher.
The expiration of the voucher – January 1, 2024
Once you receive the voucher via email, the Code of the voucher will appear here for verification purposes. Once the Voucher is used, it will be marked as used
If you have any questions, PLEASE ONLY contact our Austin office via email at [email protected]
The following vouchers have been issued and eligible to be applied:
GLF-WT-2023-01- applied and used
GLF-WT-2023-02
GLF-WT-2023-03 – applied and used
GLF-WT-2023-04
GLF-WT-2023-05
GLF-WT-2023-06
GLF-WT-2023-07
GLF-WT-2023-08
GLF-WT-2023-09
GLF-WT-2023-10
GLF-WT-2023-11
GLF-WT-2023-12
GLF-WT-2023-13 – applied and used
GLF-WT-2023-14
GLF-WT-2023-15
GLF-WT-2023-16
GLF-WT-2023-17
GLF-WT-2023-18
GLF-WT-2023-19
GLF-WT-2023-20
GLF-WT-2023-21 – applied and used
GLF-WT-2023-22
GLF-WT-2023-23 – applied and used
GLF-WT-2023-24
GLF-WT-2023-25
GLF-WT-2023-26
GLF-WT-2023-27
GLF-WT-2023-28 – applied and used
GLF-WT-2023-29
GLF-WT-2023-30 – applied and used
GLF-WT-2023-31
GLF-WT-2023-32
GLF-WT-2023-33
GLF-WT-2023-34- applied and used
GLF-WT-2023-35- applied and used
GLF-WT-2023-36
GLF-WT-2023-37- applied and used
GLF-WT-2023-38
GLF-WT-2023-39 –

applied and used


GLF-WT-2023-40
GLF-WT-2023-41 – applied and used
GLF-WT-2023-42
GLF-WT-2023-43
GLF-WT-2023-44
GLF-WT-2023-45
GLF-WT-2023-46
GLF-WT-2023-47
GLF-WT-2023-48
GLF-WT-2023-49
GLF-WT-2023-50
GLF-WT-2023-51
GLF-WT-2023-52
GLF-WT-2023-53 – applied and used
GLF-WT-2023-54
GLF-WT-2023-55
GLF-WT-2023-56
GLF-WT-2023-57
GLF-WT-2023-58
GLF-WT-2023-59
GLF-WT-2023-60
GLF-WT-2023-61 – applied and used
GLF-WT-2023-62
GLF-WT-2023-63 – applied and used
GLF-WT-2023-64
GLF-WT-2023-65
GLF-WT-2023-66
GLF-WT-2023-67
GLF-WT-2023-68- applied and used
GLF-WT-2023-69- applied and used
GLF-WT-2023-70
GLF-WT-2023-71
GLF-WT-2023-72 – $500 voucher
GLF-CAMP-2023-01